Teak has long been known as precious material for both outdoor and indoor furniture. The wood that comes from far away is original to tropical country. The fact that teak wood is pricey even in its original country, the price is skyrocketing here in American and European markets. Therefore, you need to really understand several things to consider before purchasing teak garden furniture or indoor furniture. In case you are planning to buy some teak furniture for garden in short future, consider the following things to make sure you get the right one.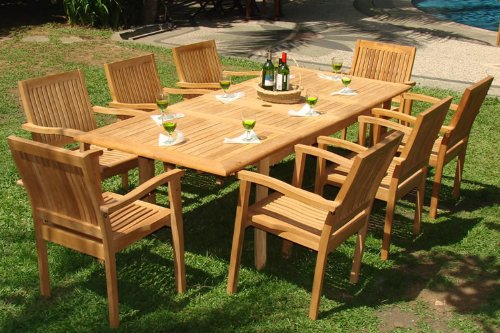 3 Things to Know before Buying Teak Garden Furniture
Aside from the typical appearance of color and grain texture, teak wood is also popular for its durability. This is one of reasons why teak furniture becomes a right choice when it comes to outdoor furniture. With minimum maintenance, the material is able to stand through extreme weather as well as rot and insects. However, you need to pay attention to these things before purchasing teak garden furniture.
Grade
Do you ever hear that teak wood consists of several grades? The grade indicates the quality of teak wood itself. Grade A is the highest that the wood has evenly buttery gold color with balance grain. Due to its quality, this grade comes with the highest price. Meanwhile, Grade B is lower than Grade A and Grade C is considered the lowest grade. Thing to note, you might be careful when choosing furniture according to its grade. Some furniture stores may provide outdoor furniture made from Grade C teak wood while sell it with Grade A price. Therefore, you need to know the difference between each grade.
Maintenance
Teak garden furniture actually does not require extra maintenance. Regular cleaning and oiling is considered enough to make it shine like new. Regular cleaning helps remove debris and dust that reduces its shine. Meanwhile, oiling helps maintain its color and get rid of mildew and mold. This also helps moisturize the wood to make it stays beautiful under the sun. However, during extreme weather such as full sun, thick snow or heavy rain, it is recommended to cover the furniture or bring them inside. Teak wood furniture that is exposed to snow or rain in high intensity may eventually decrease the quality.
Finishes
You may choose either teak garden furniture with finish or without finish. The finished furniture comes with better appearance since its surface looks shiny and smooth. Meanwhile, furniture without finishes typically looks grayish especially when you put under the sun. It actually depends on your preference to choose the right teak wood furniture.
The last but not least, it is strongly recommended to make a simple survey before purchasing teak furniture. It is not only about the model or price but also about where you are going to locate the furniture. In addition, make sure the teak garden furniture comes in the right price according to the grade. For this, you may either learn more about teak wood or find trustworthy furniture shop.